There are great teachings in all world religions. There have been many great prophets outside of the Christian tradition that have provided wisdom for the human family. Many religions have traditions of a historical figure as the personification of God, each showing different aspects of how they view God. But nothing speaks to me like the teachings and doctrine of Jesus Christ.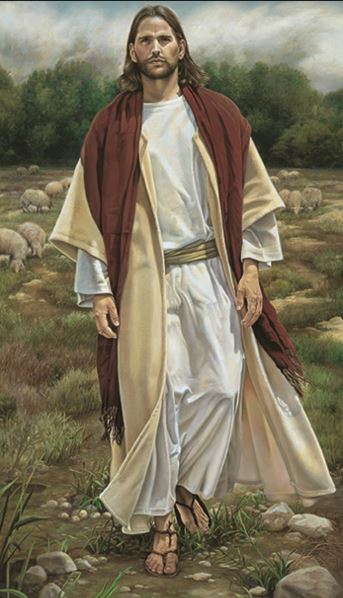 Take these hands
Teach them what to carry
Take these hands
Don't make a fist, no
Take this mouth
So quick to criticize
Take this mouth
Give it a kiss
These lyrics from U2 capsulize what it is to believe in Jesus Christ. He taught peace, sacrifice, love, discipline, and mercy. We love and revere God by treating others the way he taught.  He taught and exemplified how to live. But he also offers the enabling grace we need to follow his example. A Christ-centered-LDS life is one that takes the call of the Savior to come unto him and have your sins and weakness be perfected in him.
Within the LDS metaphorical paradigm, there can be two views of Jesus Christ.
1) Jesus is the literal Son of God, the Savior of the World, a resurrected being who takes his place in the godhead, one with his Father in Heaven yet a separate being.
2) Scripture is meant to be understood metaphorically.  Jesus Christ was an inspired man that taught inspired teachings and exemplified the true character of God.  In this, he is a symbol of the Son of God.  A symbol of the personification of God.  We can worship him and express faith in him, because we know if there was a personification of God, it would be exactly as we understand Jesus Christ.
Regardless of whether you believe in Jesus Christ as a literal or symbolic representation of God, we believe through Jesus Christ we can live more abundantly in this life and be saved and live with God again.
Fyodor Dostoevsky gave this testimony of Christ which best summarizes my view:
I believe in Christ and confess him not like some child; my hosanna has passed through an enormous furnace of doubt. I want to say to you, about myself, that I am a child of this age, a child of unfaith and scepticism, and probably (indeed I know it) shall remain so to the end of my life. How dreadfully has it tormented me (and torments me even now) this longing for faith, which is all the stronger for the proofs I have against it. And yet God gives me sometimes moments of perfect peace; in such moments I love and believe that I am loved; in such moments I have formulated my creed, wherein all is clear and holy to me. This creed is extremely simple; here it is: I believe that there is nothing lovelier, deeper, more sympathetic, more rational, more manly, and more perfect than the Saviour; I say to myself with jealous love that not only is there no one else like Him, but that there could be no one. I would even say more: If anyone could prove to me that Christ is outside the truth, and if the truth really did exclude Christ, I should prefer to stay with Christ and not with truth.
These are some of the teachings that move me.  They help me become a better person.  They help me live with more joy, peace, and happiness.
John 13:34-35  A new commandment I give unto you, That ye love one another; as I have loved you, that ye also love one another.  By this shall all men know that ye are my disciples, if ye have love one to another.
Mark 8.34-36 whosoever will save his life shall lose it; but whosoever shall lose his life for my sake and the gospel's, the same shall save it.
Matthew 5: 43 "You have heard that it was said, 'You shall love your neighbor and hate your enemy.' But I say to you, Love your enemies and pray for those who persecute you"
Matthew 5: 16 Let your light so shine before men, that they may see your good works, and glorify your Father which is in heaven.
John 15:13 Greater love hath no man than this, that a man lay down his life for his friends.
John Chapter 11
25 Jesus said unto her, I am the resurrection, and the life: he that believeth in me, though he were dead, yet shall he live:
26 And whosoever liveth and believeth in me shall never die. Believest thou this?
Mark Chapter 10
42 But Jesus called them [to him], and saith unto them, Ye know that they which are accounted to rule over the Gentiles exercise lordship over them; and their great ones exercise authority upon them.
43 But so shall it not be among you: but whosoever will be great among you, shall be your minister:
44 And whosoever of you will be the chiefest, shall be servant of all.
45 For even the Son of man came not to be ministered unto, but to minister, and to give his life a ransom for many.
Matthew Chapter 6
25 Therefore I say unto you, Take no thought for your life, what ye shall eat, or what ye shall drink; nor yet for your body, what ye shall put on. Is not the life more than meat, and the body than raiment?
26 Behold the fowls of the air: for they sow not, neither do they reap, nor gather into barns; yet your heavenly Father feedeth them. Are ye not much better than they?
27 Which of you by taking thought can add one cubit unto his stature?
28 And why take ye thought for raiment? Consider the lilies of the field, how they grow; they toil not, neither do they spin:
29 And yet I say unto you, That even Solomon in all his glory was not arrayed like one of these.
30 Wherefore, if God so clothe the grass of the field, which to day is, and to morrow is cast into the oven, [shall he] not much more [clothe] you, O ye of little faith?
31 Therefore take no thought, saying, What shall we eat? or, What shall we drink? or, Wherewithal shall we be clothed?
32 (For after all these things do the Gentiles seek:) for your heavenly Father knoweth that ye have need of all these things.
33 But seek ye first the kingdom of God, and his righteousness; and all these things shall be added unto you.
34 Take therefore no thought for the morrow: for the morrow shall take thought for the things of itself. Sufficient unto the day [is] the evil thereof.
Matthew Chapter 5
3 Blessed [are] the poor in spirit: for theirs is the kingdom of heaven.
4 Blessed [are] they that mourn: for they shall be comforted.
5 Blessed [are] the meek: for they shall inherit the earth.
6 Blessed [are] they which do hunger and thirst after righteousness: for they shall be filled.
7 Blessed [are] the merciful: for they shall obtain mercy.
8 Blessed [are] the pure in heart: for they shall see God.
9 Blessed [are] the peacemakers: for they shall be called the children of God.
10 Blessed [are] they which are persecuted for righteousness' sake: for theirs is the kingdom of heaven.
11 Blessed are ye, when [men] shall revile you, and persecute [you], and shall say all manner of evil against you falsely, for my sake.
12 Rejoice, and be exceeding glad: for great [is] your reward in heaven: for so persecuted they the prophets which were before you.
Mark Chapter 8
34 And when he had called the people [unto him] with his disciples also, he said unto them, Whosoever will come after me, let him deny himself, and take up his cross, and follow me.
35 For whosoever will save his life shall lose it; but whosoever shall lose his life for my sake and the gospel's, the same shall save it.
36 For what shall it profit a man, if he shall gain the whole world, and lose his own soul?
Matthew Chapter 7
1 Judge not, that ye be not judged.
2 For with what judgment ye judge, ye shall be judged: and with what measure ye mete, it shall be measured to you again.
3 And why beholdest thou the mote that is in thy brother's eye, but considerest not the beam that is in thine own eye?
4 Or how wilt thou say to thy brother, Let me pull out the mote out of thine eye; and, behold, a beam [is] in thine own eye?
5 Thou hypocrite, first cast out the beam out of thine own eye; and then shalt thou see clearly to cast out the mote out of thy brother's eye.
John 10:11
11 I am the good shepherd: the good shepherd giveth his life for the sheep.
Matthew 7:12
12 Therefore all things whatsoever ye would that men should do to you, do ye even so to them: for this is the law and the prophets.
John 18:36
36 Jesus answered, My kingdom is not of this world: if my kingdom were of this world, then would my servants fight, that I should not be delivered to the Jews: but now is my kingdom not from hence.
Luke 11:9-10
9 And I say unto you, Ask, and it shall be given you; seek, and ye shall find; knock, and it shall be opened unto you.
10 For every one that asketh receiveth; and he that seeketh findeth; and to him that knocketh it shall be opened.
Matthew 7:9-11
9 Or what man is there of you, whom if his son ask bread, will he give him a stone?
10 Or if he ask a fish, will he give him a serpent?
11 If ye then, being evil, know how to give good gifts unto your children, how much more shall your Father which is in heaven give good things to them that ask him?
From these, we get a picture of a message of peace, love, service, and sacrifice.
He taught by not just his words but his actions.  These passages are from the Bible NIV version.  I took it from NIV because it's a little easier to read and understand in story form.
John 5:1-9
2 Now there is in Jerusalem near the Sheep Gate a pool, which in Aramaic is called Bethesda and which is surrounded by five covered colonnades. 3 Here a great number of disabled people used to lie—the blind, the lame, the paralyzed.  5 One who was there had been an invalid for thirty-eight years. 6 When Jesus saw him lying there and learned that he had been in this condition for a long time, he asked him, "Do you want to get well?" 7 "Sir," the invalid replied, "I have no one to help me into the pool when the water is stirred. While I am trying to get in, someone else goes down ahead of me." 8 Then Jesus said to him, "Get up! Pick up your mat and walk." 9 At once the man was cured; he picked up his mat and walked.
Luke 19
Jesus entered Jericho and was passing through. 2 A man was there by the name of Zacchaeus; he was a chief tax collector and was wealthy. 3 He wanted to see who Jesus was, but because he was short he could not see over the crowd. 4 So he ran ahead and climbed a sycamore-fig tree to see him, since Jesus was coming that way. 5 When Jesus reached the spot, he looked up and said to him, "Zacchaeus, come down immediately. I must stay at your house today." 6 So he came down at once and welcomed him gladly.7 All the people saw this and began to mutter, "He has gone to be the guest of a sinner." 8 But Zacchaeus stood up and said to the Lord, "Look, Lord! Here and now I give half of my possessions to the poor, and if I have cheated anybody out of anything, I will pay back four times the amount." 9 Jesus said to him, "Today salvation has come to this house, because this man, too, is a son of Abraham. 10 For the Son of Man came to seek and to save the lost."
Luke 17
11 Now on his way to Jerusalem, Jesus traveled along the border between Samaria and Galilee. 12 As he was going into a village, ten men who had leprosy met him. They stood at a distance 13 and called out in a loud voice, "Jesus, Master, have pity on us!" 14 When he saw them, he said, "Go, show yourselves to the priests." And as they went, they were cleansed. 15 One of them, when he saw he was healed, came back, praising God in a loud voice.16 He threw himself at Jesus' feet and thanked him.
Mark 8
22 They came to Bethsaida, and some people brought a blind man and begged Jesus to touch him. 23 He took the blind man by the hand and led him outside the village. When he had spit on the man's eyes and put his hands on him, Jesus asked, "Do you see anything?" 24 He looked up and said, "I see people; they look like trees walking around." 25 Once more Jesus put his hands on the man's eyes. Then his eyes were opened, his sight was restored, and he saw everything clearly.
Luke 8
43 And a woman was there who had been subject to bleeding for twelve years, but no one could heal her. 44 She came up behind him and touched the edge of his cloak, and immediately her bleeding stopped. 45 "Who touched me?" Jesus asked. When they all denied it, Peter said, "Master, the people are crowding and pressing against you." 46 But Jesus said, "Someone touched me; I know that power has gone out from me." 47 Then the woman, seeing that she could not go unnoticed, came trembling and fell at his feet. In the presence of all the people, she told why she had touched him and how she had been instantly healed. 48 Then he said to her, "Daughter, your faith has healed you. Go in peace."
Matthew 9
18 While he was saying this, a synagogue leader came and knelt before him and said, "My daughter has just died. But come and put your hand on her, and she will live."19 Jesus got up and went with him, and so did his disciples…23 When Jesus entered the synagogue leader's house and saw the noisy crowd and people playing pipes, 24 he said, "Go away. The girl is not dead but asleep." But they laughed at him. 25 After the crowd had been put outside, he went in and took the girl by the hand, and she got up.
Luke 7
36 When one of the Pharisees invited Jesus to have dinner with him, he went to the Pharisee's house and reclined at the table. 37 A woman in that town who lived a sinful life learned that Jesus was eating at the Pharisee's house, so she came there with an alabaster jar of perfume. 38 As she stood behind him at his feet weeping, she began to wet his feet with her tears. Then she wiped them with her hair, kissed them and poured perfume on them. 39 When the Pharisee who had invited him saw this, he said to himself, "If this man were a prophet, he would know who is touching him and what kind of woman she is—that she is a sinner." 40 Jesus answered him, "Simon, I have something to tell you." "Tell me, teacher," he said. 41 "Two people owed money to a certain moneylender. One owed him five hundred denarii, and the other fifty. 42 Neither of them had the money to pay him back, so he forgave the debts of both. Now which of them will love him more?" 43 Simon replied, "I suppose the one who had the bigger debt forgiven." "You have judged correctly," Jesus said. 44 Then he turned toward the woman and said to Simon, "Do you see this woman? I came into your house. You did not give me any water for my feet, but she wet my feet with her tears and wiped them with her hair. 45 You did not give me a kiss, but this woman, from the time I entered, has not stopped kissing my feet. 46 You did not put oil on my head, but she has poured perfume on my feet. 47 Therefore, I tell you, her many sins have been forgiven—as her great love has shown. But whoever has been forgiven little loves little."
48 Then Jesus said to her, "Your sins are forgiven." 49 The other guests began to say among themselves, "Who is this who even forgives sins?" 50 Jesus said to the woman, "Your faith has saved you; go in peace."
John 13:1-17
4 …He took off his outer clothing, and wrapped a towel around his waist. 5 After that, he poured water into a basin and began to wash his disciples' feet, drying them with the towel that was wrapped around him. …12 When he had finished washing their feet, he put on his clothes and returned to his place. "Do you understand what I have done for you?" he asked them. 13 "You call me 'Teacher' and 'Lord,' and rightly so, for that is what I am. 14 Now that I, your Lord and Teacher, have washed your feet, you also should wash one another's feet. 15 I have set you an example that you should do as I have done for you.
John 17
1After Jesus said this, he looked toward heaven and prayed: …6 "I have revealed you to those whom you gave me out of the world. They were yours; you gave them to me …9I pray for them. … 11 I will remain in the world no longer, but they are still in the world, and I am coming to you. Holy Father, protect them by the power of your name, the name you gave me, so that they may be one as we are one…15 My prayer is not that you take them out of the world but that you protect them…17 Sanctify them by the truth; your word is truth… 20 "My prayer is not for them alone. I pray also for those who will believe in me through their message, 21 that all of them may be one, Father, just as you are in me and I am in you. May they also be in …22 I have given them the glory that you gave me, that they may be one as we are one— 23 I in them and you in me—so that they may be brought to complete unity. Then the world will know that you sent me and have loved them even as you have loved me…24 "Father, I want those you have given me to be with me where I am, and to see my glory, the glory you have given me because you loved me before the creation of the world.25 "Righteous Father,…26 I have made you known to them, and will continue to make you known in order that the love you have for me may be in them and that I myself may be in them."
Matthew 26:36-46
36 Then Jesus went with his disciples to a place called Gethsemane, and he said to them, "Sit here while I go over there and pray." 37 … and he began to be sorrowful and troubled. 38 Then he said to them, "My soul is overwhelmed with sorrow to the point of death."…39 Going a little farther, he fell with his face to the ground and prayed, "My Father, if it is possible, may this cup be taken from me. Yet not as I will, but as you will."…42 He went away a second time and prayed, "My Father, if it is not possible for this cup to be taken away unless I drink it, may your will be done."….44 So he left them and went away once more and prayed the third time, saying the same thing… (Luke 22 44) And being in anguish, he prayed more earnestly, and his sweat was like drops of blood falling to the ground.
Luke 22
50 And one of them struck the servant of the high priest, cutting off his right ear. 51 But Jesus answered, "No more of this!" And he touched the man's ear and healed him.
Matthew 27
28 They stripped him and put a scarlet robe on him,29 and then twisted together a crown of thorns and set it on his head. They put a staff in his right hand. Then they knelt in front of him and mocked him. "Hail, king of the Jews!" they said. 30 They spit on him, and took the staff and struck him on the head again and again. 31 After they had mocked him, they took off the robe and put his own clothes on him. Then they led him away to crucify him.
Luke 23
33 When they came to the place called the Skull, they crucified him there, along with the criminals—one on his right, the other on his left. 34 Jesus said, "Father, forgive them, for they do not know what they are doing."… 44 It was now about noon, and darkness came over the whole land until three in the afternoon, 45 for the sun stopped shining. And the curtain of the temple was torn in two. 46 Jesus called out with a loud voice, "Father, into your hands I commit my spirit." When he had said this, he breathed his last.
John 21
14 This was now the third time Jesus appeared to his disciples after he was raised from the dead. 15 When they had finished eating, Jesus said to Simon Peter, "Simon son of John, do you love me more than these?" "Yes, Lord," he said, "you know that I love you." Jesus said, "Feed my lambs." 16 Again Jesus said, "Simon son of John, do you love me?" He answered, "Yes, Lord, you know that I love you." Jesus said, "Take care of my sheep." 17 The third time he said to him, "Simon son of John, do you love me?"
Peter was hurt because Jesus asked him the third time, "Do you love me?" He said, "Lord, you know all things; you know that I love you." Jesus said, "Feed my sheep.